We bring the world of genetics to you.
Receive 65+ personalized genetic reports
Understand what your DNA says about your health, traits and ancestry
Access interactive tools to share, compare and discover more with friends and family
Find your roots. Know your story.
Understand who you are, where you come from and how you connect with the world.
We are the first and only genetic service available directly to you that includes reports that meet FDA standards.
Our lab. CLIA-certified.
Your DNA analysis is performed in US laboratories that are certified to meet CLIA standards—the Clinical Laboratory Improvement Amendments of 1988.
A CLIA-certified lab must meet certain quality standards, including qualifications for individuals who perform the test and other standards that ensure the accuracy and reliability of results.
We use leading technology to genotype your DNA—a custom Illumina HumanOmniExpress-24 format chip.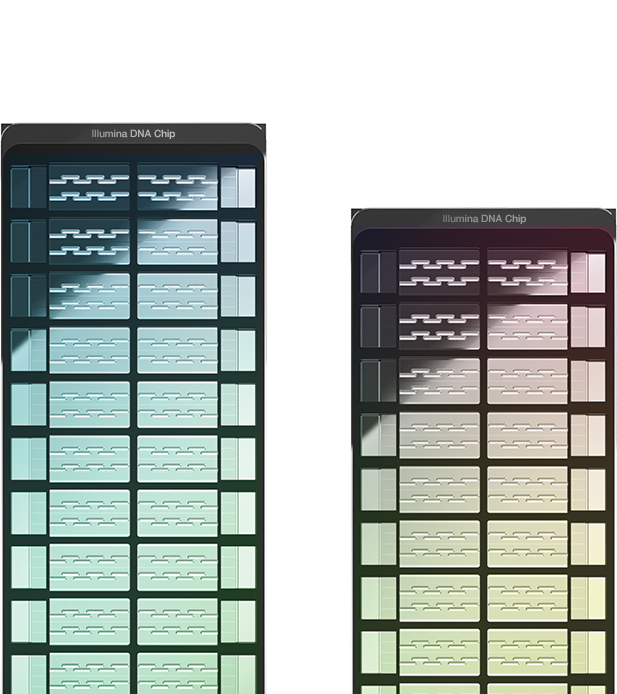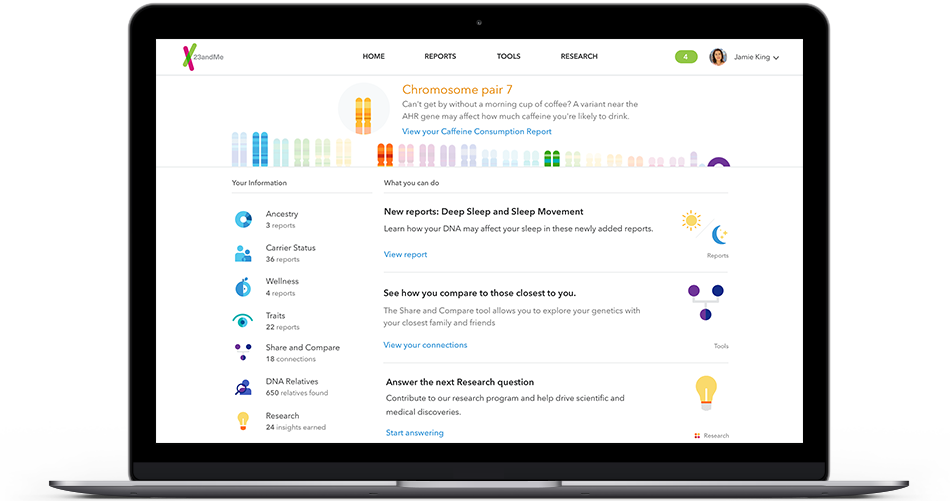 The 23andMe difference. Here's what you get.
We are not just a genetic lab test or an ancestry service. We are an experience that lets you explore your genetics throughout your life.
From a genetic snapshot of your health and ancestry to ongoing reports and research, everyone learns something different.
As the field of genetics advances, we will be here to make the latest technology accessible to you.
How it works.
It's just saliva.
Provide your saliva sample from home. Mail it back to our lab in the same kit it came in—the postage is pre-paid.
We bring your genetics to you.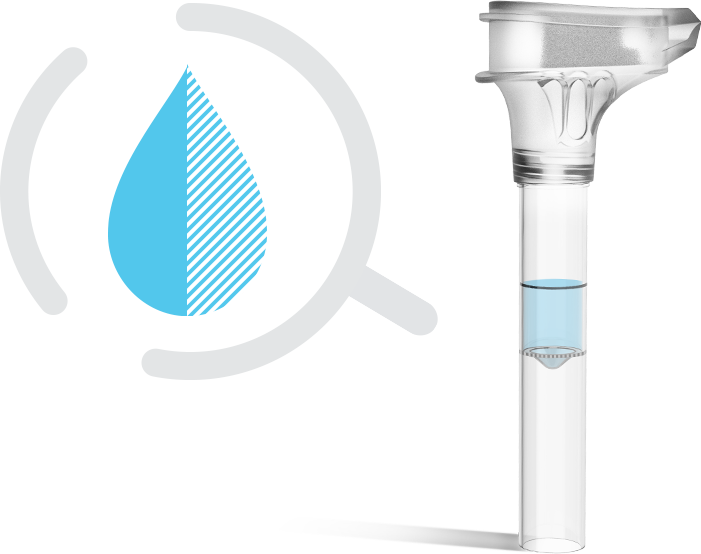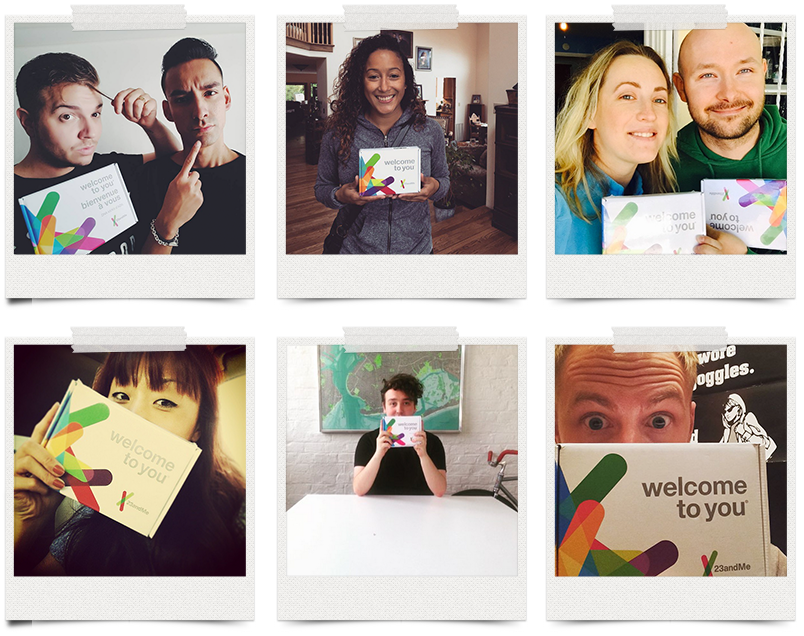 Customer Stories.
Genetic Journeys.
We hear from thousands of customers around the world who write in to tell us about their 23andMe experience—and the impact it has had on their life.
Hi.

Still have questions?

Here are just a few of the things people frequently ask about 23andMe.
If you don't see your question here, get in touch with us.
What is the history of the company?
23andMe was founded in 2006 to help people access, understand and benefit from the human genome.
We have more than one million genotyped customers around the world.
In 2015, 23andMe was granted authorization by the US Food and Drug Administration (FDA) to market the first direct-to-consumer genetic test.
How accurate are the reports?
23andMe is the first and only genetic service available directly to you that includes reports that meet FDA standards for being scientifically and clinically valid.
Our rigorous quality standards:
Carrier Status* tests meet FDA criteria for being scientifically and clinically valid
All saliva samples are processed in CLIA-certified and CAP-accredited labs
Our DNA collection kit is FDA-cleared for use with our Carrier Status tests and manufactured in accordance with FDA's Good Manufacturing Practice regulations
Genotyping is a well-established and reliable platform for analyzing DNA
Our team of scientists and medical experts use a rigorous process to develop and design each report, ensuring validity and ease of use
How is my privacy protected?
You choose how your genetic information is used and shared with others. We tell you how those choices are implemented and how we collect, use and disclose your information.
We will not share your individual-level information with any third party without your explicit consent
We support the Genetic Information Nondiscrimination Act (GINA) and other similar laws that protect individuals from being discriminated against based on their genetics and will not provide your information or results to employers or health insurance companies
We have guidelines and policies in place to protect the personal information of children as well as incapacitated or deceased individuals
We do not provide information to law enforcement unless we are required to comply with a valid subpoena or a court-ordered request
*Our tests can be used to determine carrier status in adults from saliva collected using an FDA-cleared collection device (Oragene·DX model OGD-500.001), but cannot determine if you have two copies of the genetic variant. Each test is most relevant for people of certain ethnicities. The tests are not intended to diagnose a disease, or tell you anything about your risk for developing a disease in the future. On their own, carrier status tests are not intended to tell you anything about the health of your fetus, or your newborn child's risk of developing a particular disease later in life.